Hello crafty friends, have you enjoy your summer? I should say my kids had a blast this summer. We have been at the beach, at pool, at the zoo and also visited Ocean World, it´s a theme park in Puerto Plata, Dominican Republic, where they have dolphins, sharks and others animals, my kiddos loved it. They will begin the school August the 28th, the girl and the boy on September 1st, so we´re now preparing everything to go back to school.
By the way, the next Wednesday 10, it´ll be CJToo Crafty Designers Post and the theme will be Back to the school and I have to tell you, I saw some speak a peak and they´re beautiful, you´ll really enjoy it.
Now finally, LOL, for today project I made this card, because I need to have more cards on my stash, so I didn´t put any sentiments on it, so when I needed I´ll put the sentiment.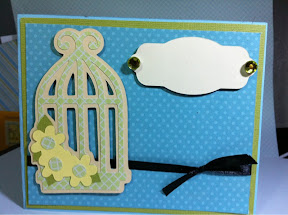 Materials:
A2 Card
Birdcage 1 from the Cricut Lite Bloom Cartridge, cut at 3". It´s for me a new cartridge because I just get it last week.
Mats
Green cut at 5.25x4.25
Blue polka dot 5x4
Black Ribbon.
Thanks for stop,
Indira