Welcome to the "All About Fall" Blog Hop!!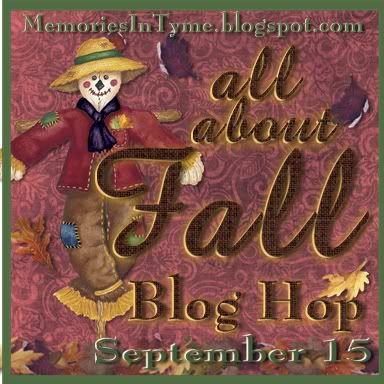 We're so happy you could join us for this super-fun hop showcasing cards, layouts and projects that are All About Fall!! You'll find an array of ideas throughout the hop -- From decorations to gift ideas and more, we hope you'll enjoy each and every project along the way!! This is a TWO-DAY hop, so be sure to catch both days for maximum ideas (you'll find the entire line-up below my post)!!
Before the leaves change color and fall... let's get hopping!! If you've hopped over from
Barbaras
, then you are in the right place!! If you've just popped in to visit my blog or are reading this via email and you'd like to join our All-About-Fall FUN, then please
CLICK HERE
to start at the beginning with Lynda's blog because...Starting at the start is always SMART!! :) We have a WONDERFUL Grand Prize for one lucky hopper today -- A $25 Gift Certificate for Designs On Cloud 9!! To be eligible, please visit each "Blog Hop Stop" and leave a comment!! One random winner will be chosen on Wednesday, September 21st (giving you plenty of time to finish the hop)... For more details on what you could choose if YOU are the winner, please be sure to visit our sponsor:
http://www.designsoncloud9.com/
For the hop today, I decide to make a card using a digital stamp from
2 Cute Rubber Stamps
. It`s a standard A2 card and I use my crayola pencils
Thank you again for checking out my project...Now hop on over to
Kacee
and remember to visit all the stops for more chances to WIN!!
Here's a list of the entire hop, in case you get lost along the way or want to revisit anyone -- I've included BOTH days of the hop so you'll be sure not to miss a THING!!
DAY ONE (September 15)
1. Lynda -
http://memoriesintyme.blogspot.com/
2. Amy -
http://www.lovetocrop.com
3. Dana -
http://danascraftycorner.blogspot.com
4. Jen R -
http://www.memorieswithjen.blogspot.com/
5. Anita -
http://www.anitaandbugs.blogspot.com
6. Kari -
http://purplefuntastickcreations.blogspot.com/
7. Lori -
http://scrappinmystressaway.blogspot.com
8. Barbara -
http://barbaras-crafty-corner.blogspot.com
9. Indira -
http://craftyhomemade.blogspot.com/
You`re here
10. Kacee -
http://youhadmeatscrap.blogspot.com
11. Bobbi Jo -
http://sweetsassydiva.com
12. Rhonda -
http://scraphappenswithrhonda.blogspot.com/
13. Susan -
http://susanascorner.blogspot.com/
14. Lynne -
http://slasewcraftiness.blogspot.com/
15. Rhonda -
http://craftingwithblue.blogspot.com
16. Sandy -
http://thecraftycreationspot.blogspot.com/
17. Lisa -
http://prettypaperprettyribbons.blogspot.com/
18. Deb -
http://www.scrappingmamma.net/
19. Dawn -
http://dawnsdesignsthatdelight.blogspot.com
20. Lisa -
http://handmadewithlove-lisa.blogspot.com/
21. Suzanne -
http://www.cricutcraftingrammy.blogspot.com
DAY TWO (September 16)
1. Lynda --
http://memoriesintyme.blogspot.com/
2. Sylvia -
http://www.bellascrapbookdesigns.blogspot.com
3. Nancy -
http://blog.fancywithnancy.com
4. Jen-
http://www.jenscraftcorner.com
5. Dana--
http://danascraftycorner.blogspot.com
6.Nicolette-
http://www.beyondscrapin.blogspot.com
7. Vicki -
http://mawmawsthoughts.blogspot.com/
8. Kathy -
http://the3esblog.blogspot.com/
9. Deborah -
http://www.scrappingmamma.net/
10. Lisa -
http://handmadewithlove-lisa.blogspot.com/
11. Mindy -
http://cvceggen.blogspot.com/
12. Janet -
http://ladyluvbug.blogspot.com/
13. Carol -
http://huffandpuffscrap.blogspot.com/
14. Pam -
http://www.pammejo-scrapbookflair.com/
15. Brenda
http://createbyburffrau.blogspot.com
INDIRA